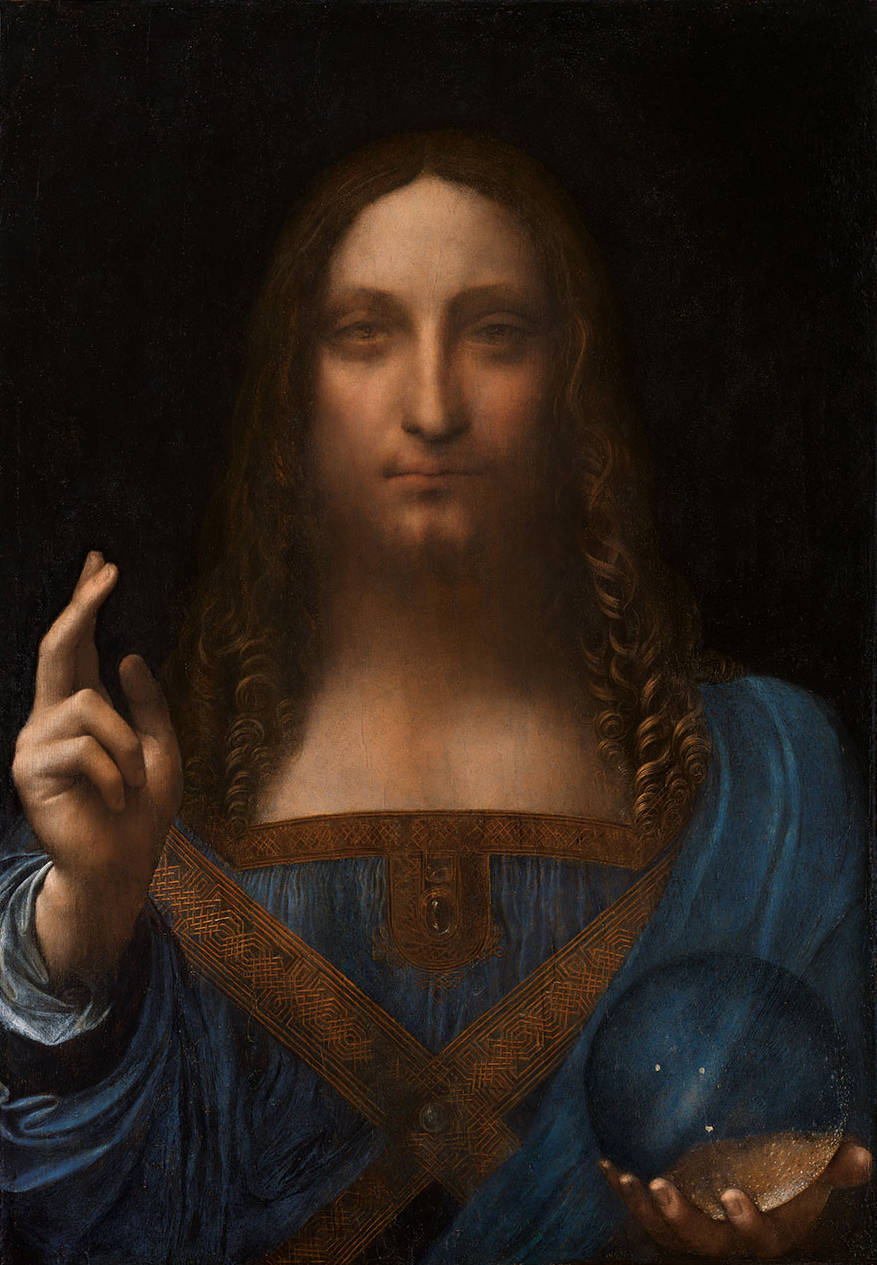 SALVATOR MUNDI: WORLD AUCTION RECORD FOR THE PAINTING ATTRIBUTED TO LEONARDO DA VINCI
The Salvator Mundi attributed to Leonardo da Vinci was sold at auction by Christie's on November 15th 2017 for $ 450.3 million.
This is a world auction record: by far, this is the most expensive work ever sold at auction, and its new and very rich owner is obviously mysterious.
The Salvator Mundi has a complicated story I'll tell you in this post and that will make you understand why so many people wanted it so much that the price starting at $ 75 million went up!
The 
Salvator Mundi 
was 
attributed to Leonardo only in 2011
, on the occasion of the exhibition "Leonardo da Vinci: Painter at the Court of Milan" held at the National Gallery of London.
It is said that Leonardo painted the painting in Milan in 1499 and you can recognise his preparatory studies on some sheets held at Windsor.
Actually, the work was already known before 2011 but only through an etching of 1650 by artist Wenceslaus Hollar. But it's a work of art by Leonardo, and mystery and enigma go always hand in hand with his genius.
Scholar Luca Syson hypothesized that Leonardo painted this painting for the French royal family, and later the painting was moved to England in 1625 by Queen Henrietta Maria de Bourbon who married King Charles I of England.
Syson's hypothesis is based on the fact that the painting is recorded in the inventory of the royal collection, but since 1763 it disappeared from any document and traces of the painting got lost. But, suddenly, in 1900 sir Charles Robinson bought the Salvator Mundi as an artwork by Bernardino Luini, Leonardo's follower.
Then, the painting appeared again and was sold at auction in 1958 for £45, but later disappeared again for 50 years, until in 2015 it returned in the art market.
In 2007 the painting underwent restoration
 which allowed a group of world-renowned scholars to attribute the 
Salvator Mundi 
to Leonardo da Vinci.
Here is a list of some of those scholars: Mina Gregori (University of Florence), Sir Nicholas Penny (National Gallery of Art, Washington DC and director of the National Gallery of London), Carmen Brambach, Andrea Bayer, Keith Christiansen, Everett Fahy and Michael Gallagher (all from the Metropolitan Museum of Art). Only Brambach doesn't attribute the work to Leonardo, but to an artist of his workshop, that is Giovanni Boltraffio.
Whoever the mysterious and very rich new owner of the Salvator Mundi is, he won not only an artwork painted almost certainly by Leonardo, but also a painting with a fascinating story.